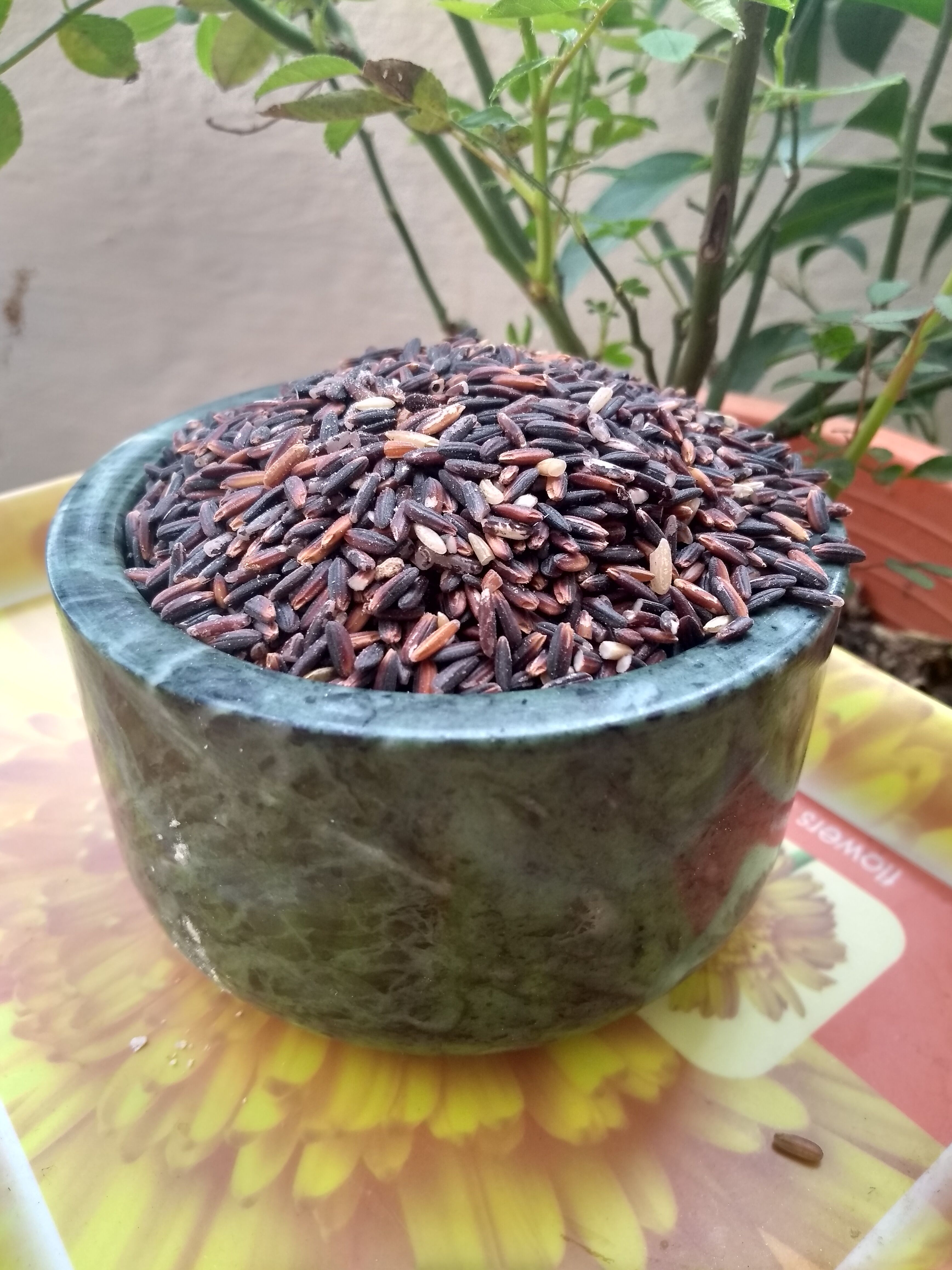 Hello! My loves..
I am sure you have been seeing a lot of Black Rice recipes on instagram, youtube and Facebook.  Ever wondered what's about it? How it tastes and dude how to cook it? Cool,.. down below in short, are the answers.
Talking about the "Forbidden Rice" AKA the Black Rice. Its been something I wanted to try, but couldn't get it in our local markets. All thanks to bigbasket for making them available to people like me.
Rice is love to any South Indian. Having said that, just when I was looking for a healthier variant, I found something really interesting,The Black rice! They are now easily available in almost all the cities and costs you around RS.250/500gms. Sounds pricey right?.. but hey anything healthy comes with a pricey tag!
When I compared the nutritional values of blackrice I was quite surprised because it has everything better than the other rice variants. Its a rich source of antioxidants, so ladies if you want to keep away your mood swings try black rice next time..! 🙂
Some of the amazing benefits of Black rice are they prevent cardiovascular diseases, treats infection and diarrhoea, fights cancer, aids in weight loss, helps in liver detoxification and the list goes on..!
I manage to have blackrice alternate days but yes everybody has their own choice of having it. I will be sharing few black rice recipes soon too!
Hey, but before we talk about recipes, let's talk a bit about some pre-steps to be taken before starting to cook the black rice.
Soak soak soak, soak all the grains. We hear it and we know it.  So, I soak the black rice overnight.  Not because it is necessary but because it removes few toxins which doesn't go just through washing them and soaking also helps in breaking down some of the hard-to-digest proteins in addition to this the cooking time reduces to half. 
Wash the black rice under running water for at least 10mins or atleast  4-5 times. You will see a lot of purple color running out. Careful it stains!
Take one part of rice and 2parts of water i.e in the ratio of 1:2 
Let the flame be on medium high and bring it to a boil. Once it comes to a boil, lower the heat and put a lid. It will take 20-25mins however you can also check by  just taking a rice grain with a table spoon. 
If you haven't soaked the Black Rice it will be taking 50-60mins approxmately.
Black Rice is gluten free yet it has a sticky consistency to it. It has a nutty flavour which is more or less like our Brown Rice.
So, thats a little about the " Forbidden Rice" . Coming soon are some recipes of it. 
Meanwhile comment below what you think of Black Rice, So that I get some gyaan from you guys too 😉
Gourmet, Vintage Lover, Nutrition Enthusiast, Dough Puncher, esthetician(beautician), Perfection seeker with a cheerful personality.