Sweet Khajur Chutney has a blast of flavours. It's sweet, it's spicy, its sour and a pinch of the little ingredients make it super special. It goes great with biryani, fried rice or any rice items we make on our daily basis. As a child when we used to live in Bihar, this was the special thing I used to look forward when attending weddings. Its easy to make and can be stored for a couple of weeks. Kids love it and the Dates Chutney goes great with rotis too. So here is a quick and easy guide on how to make sweet Khajur chutney.

Required Ingredients to make sweet Khajur chutney:
Dates: 6 Soaked for 15 minutes
Tomatoes: 2 medium
Green chilies: 2
Curry leaves: 6
Dry Red chilies: 2
Fennel seeds: 1/2 a teaspoon
Mustard seeds: 1/4 of a teaspoon
Cumin seeds: 1/4 of a teaspoon
Fenugreek seeds: 4
Sugar: 3 teaspoons.
Red chili powder: 1/4 of a teaspoon
Turmeric powder: 1/4 of a teaspoon
Bay leaves: few
Step by Step Images on how to make Khajur Chutney:
Keep all the required ingredients handy.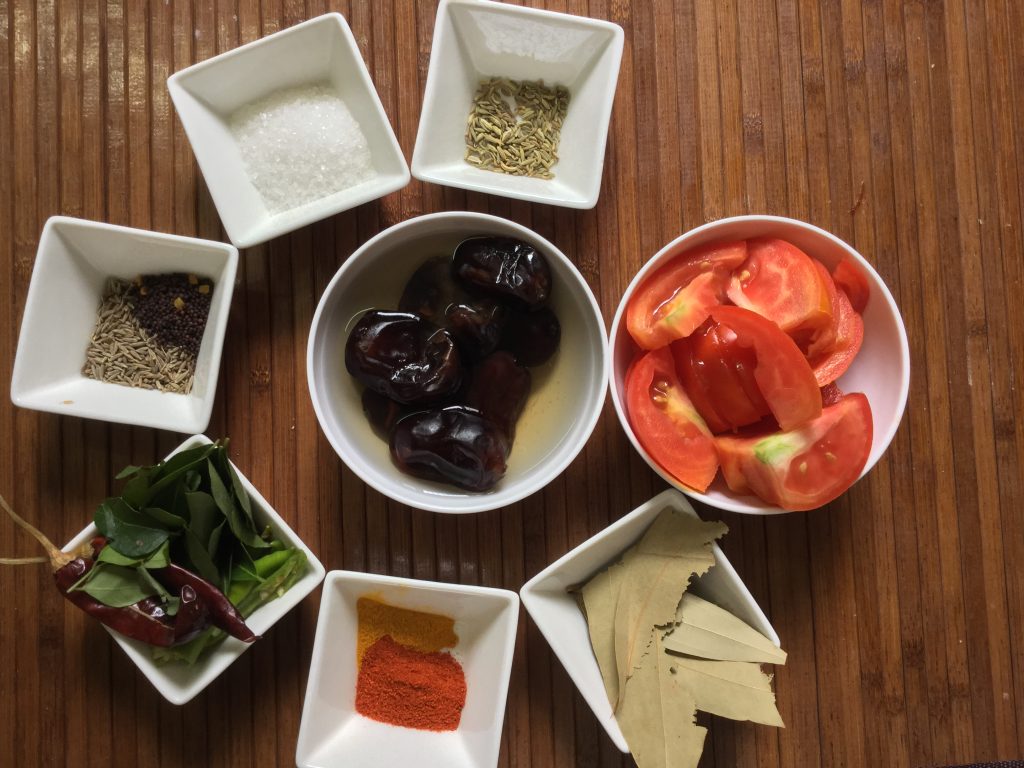 Take a pan heat some oil and add mustard seeds, cumins seeds and fenugreek seeds. Let them sputter.
.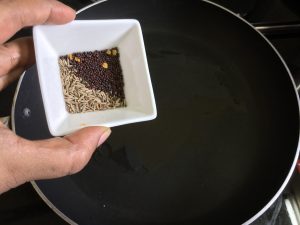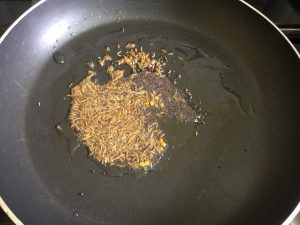 To the pan now add the bay leaves and saute for few seconds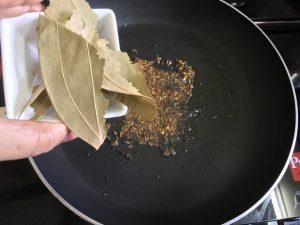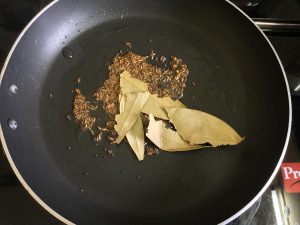 Once the bay leaves are added, add the curry leaves,  slit green chilis and the dry red chillies and saute them for 2 minutes.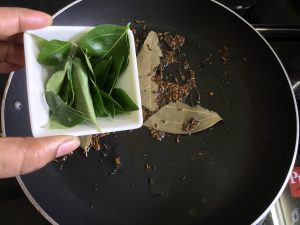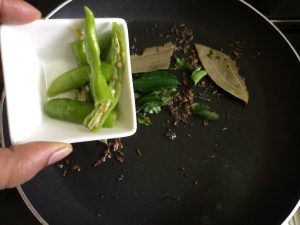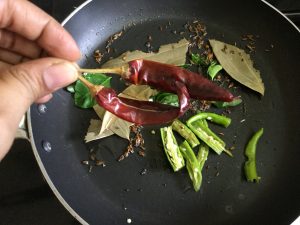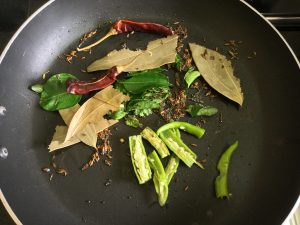 To the pan now add the red chilli powder and turmeric powder and saute well. Adding these to the oil enhances the colour of the recipe.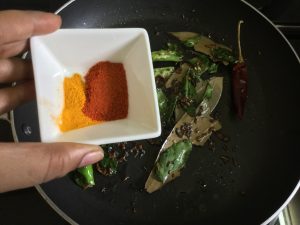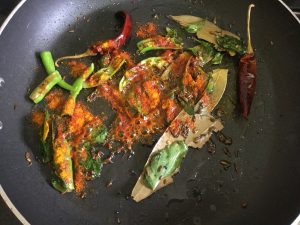 Once the aroma of the red chili powder hits, add in the tomatoes and saute till the oil separates.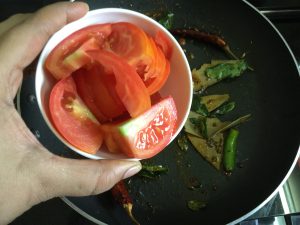 To the pan, add the de-seeded and soaked dates, followed by fennel seeds.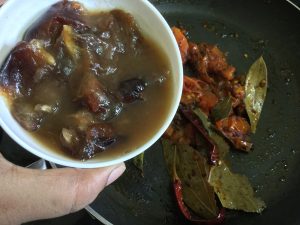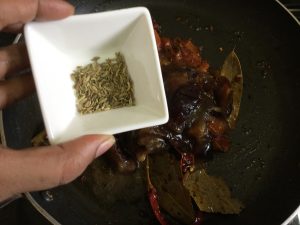 Give the whole a good stir and add a cup or two of water, sugar to taste and boil till the required consistency is acquired.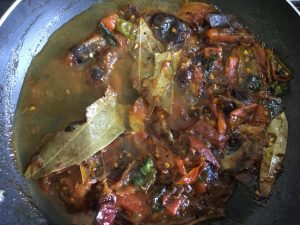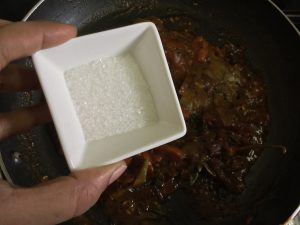 Once done it looks like this.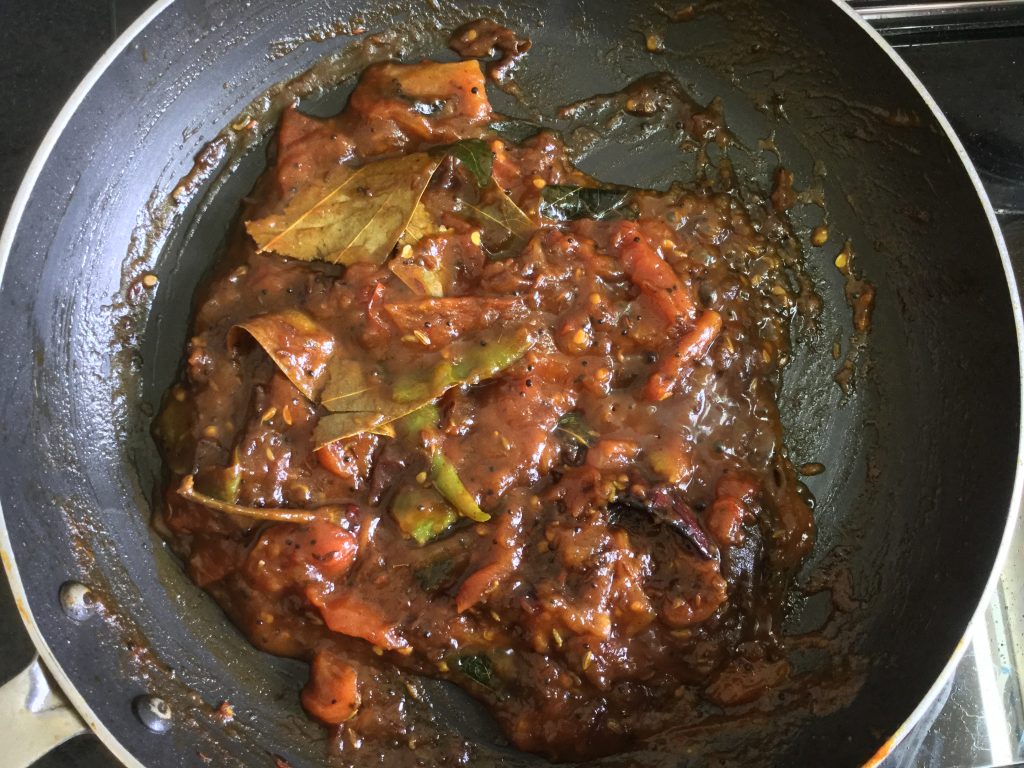 The super yummy Dates Chutney is now ready and can be served with Biryani or Fried Rice or roti. Make your choice and enjoy!
Here is how it looks, Khajur Ki Chutney, ready to smash your taste buds!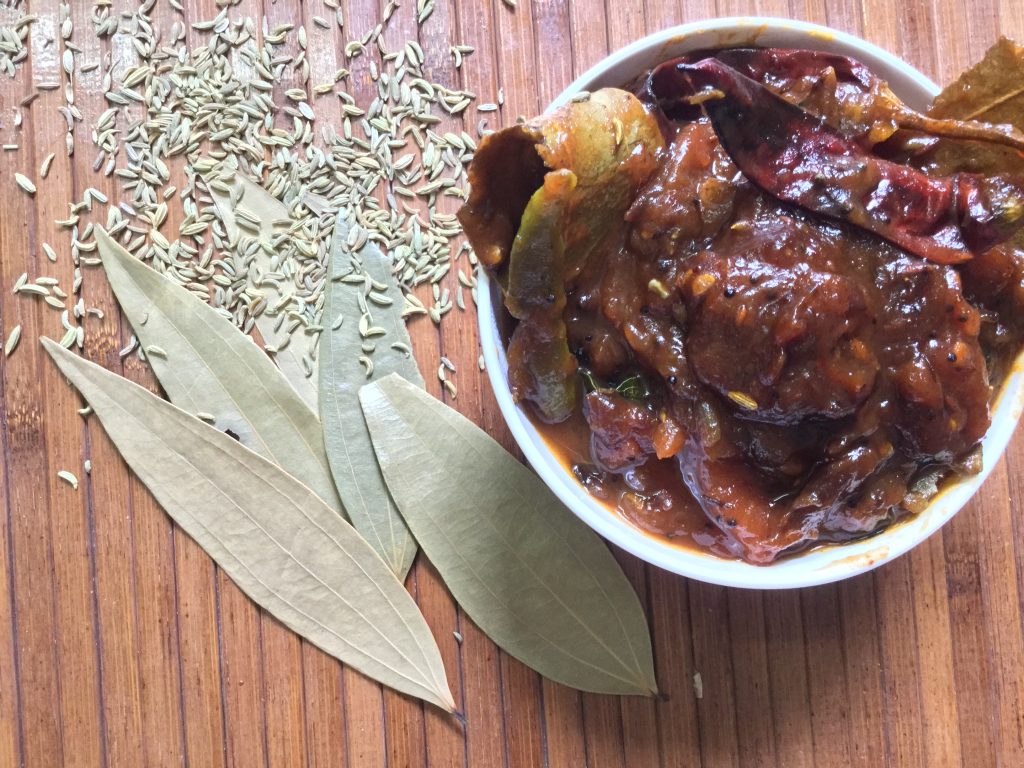 Hope you enjoyed this comprehensive recipe guide on how to make Khajur chutney. Would really appreciate if you can share it on social media and spread the love.
Summary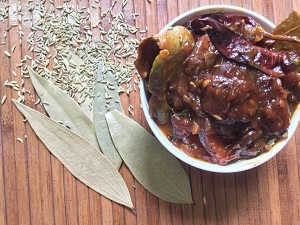 Recipe Name
Author Name
Published On
Preparation Time
Cook Time
Total Time
Average Rating





Based on 3 Review(s)