L'Oreal Paris Brow Artist Genius Kit Review-India
The description of beauty keeps changing. Thick, groomed and filled eyebrows are now trending. And its time you let your eyebrows do the talking with L'Oreal Paris Brow Artist Genius Kit
Well defined, filled, and winged brows will never go unappreciated. They frame your face and enhance your features leaving you look well groomed and super attractive. And the only available product helping you achieve that look in India is L'Oreal Paris Brow Artist Genius Kit.
I must say Maybelline Fashion Brow duo shaper serves the purpose. But using L'Oreal Paris Brow Artist Genius Kit takes things to the next level and makes you feel no less than any professional. So let's jump-in to know more about it.
Product Description:
Color: The kit comes in only one shade in India i.e Medium to Dark making the purchase easier!
Look: The kit looks oh so sexy! It's compact, travel-friendly and screams its perfectness.

Detailing the Contents: The kit has two sections. One with WAX (on the left) and one with brow powder (on the right). It comes with a mirror and a spooley to tame and fill in your brows. The Wax helps the brow stay intact and the powder fills in the gaps.
How to use:
Wax: First apply wax on your eyebrows with the help of brush in the kit to attain the preferred shape and definition.
Powder: Then fill the gaps in the brows with the powder to make them look full and beautiful.
NOTE: The brush isn't very precise but serves the purpose pretty well and is handy. You can always use any of your eyebrow brushes if you are particular.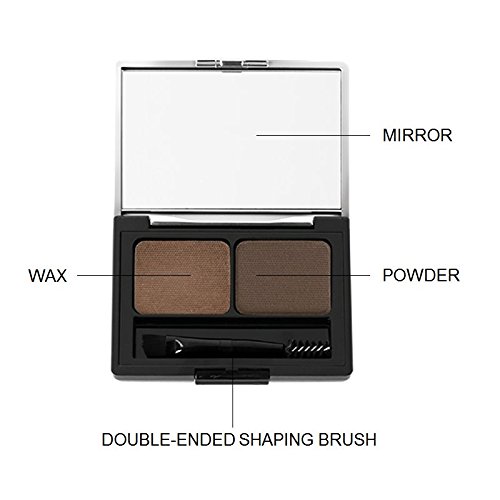 Price: Rs 895/-
My Experience:
The high price gave me tears, and the size of the product made me wonder if its really worth it.
But, the experience it gives is worth much more. Trust me, you will not leave the house without using the product from here on and you would wonder how you did your makeup without this all these days. I no longer step out without using the Genius Kit anymore.
Would I suggest the product? Absolutely! Go grab your piece and shine shine shine!
You can check out how to make your brows look great in many youtube videos. But here I include the video explaining the step by step process using the kit.