The name might trick you(if you see tomato bhath) but the taste wouldnt. Once you go through the recipe you might wonder why it isnt simply called upma/Masala upma.
I have been there too. So the difference I found when I have been to the restaurants is that when they say UPMA it is simple, plain rava cooked with tampering and ginger. While the Tomato bhath's main ingredient remains the same as upma, addition of different veggies and tomatoes makes its special. It is also called as Khara Bhath in Karnataka 🙂
Ingredients to make Khara/Tomato bhath.
Rava: 2 cups
Onion: 2
Tomato:1
Ginger: 2 Inches
Green chilis: 6-7
Curry Leaves: few
Extra ADDED Veggies:
Carrot: 1 Chopped
Potato:1
Beans: few
Green Peas: Half cup
Cauliflower: few florets
FOR TAMPERING:
Cumin seeds: few
Mustard seeds
chana dal: 1 teaspoon
Method:
To a hot pan, add the required amount of rava. Dry roast till the rava turns aromatic and changes color. Take aside and let cool.
Start with the tampering in good hot oil. Add in the mustard seeds, cumin seeds, chanadal followed by ginger, curry leaves, and green chilis.
Once the tampering crackles, add in the chopped onions and saute till it starts to turn little brown. Add in the tomatoes and wait till it becomes mushy.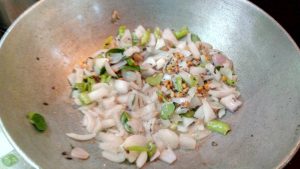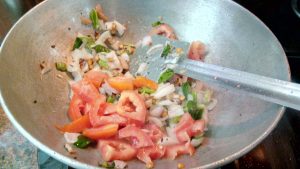 Add the veggies of your choice and saute till a golden film forms on them. Thats it, its now time to add water in the ratio of (rava:water 1:2)  Add salt to taste. ( confused how much salt to add? – Here is a tip, start adding little and add till the water taste little salty)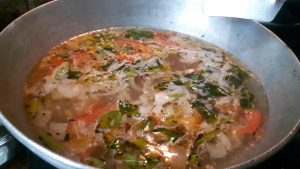 When the water starts boiling – start adding the rava slowly while stirring with one hand. Failing to  stir  continously while adding the rava will leads to a ton of lumps 🙁  Add ghee and give a good mix.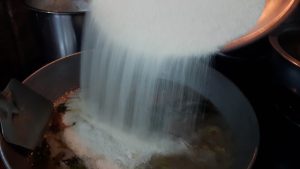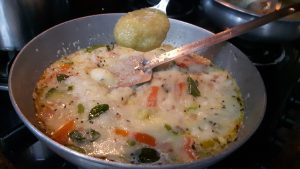 Cover and cook for 3-5 minutes. Add more ghee if needed.
Tips:
Dry roasting the rava till it changes color plays a vital role.
You can add as many vegetables as you want, and since cauliflower is in season do not forget to add few florets of it too 🙂
Maintain the rava to water ratio for good consistency.
Add half a teaspoon of pav bhaji powder/pulav masala in the end to enhance the taste.
Also check:  Instant snack/breakfast recipe 
Summary
Recipe Name
Published On
Average Rating





Based on 2 Review(s)